Non-Standard Special Fasteners, Screws & Bolts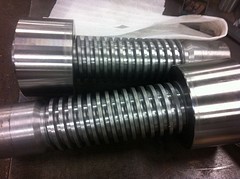 While many companies use standard fasteners in their operations, there could be a time when non-standard special fasteners will work better for a particular project. If you ever find this to be the case for your company, Lowrance Machine Shop creates non-standard special fasteners for you based on your specific needs.
At Lowrance Machine Shop, we can create non-standard special fasteners for you based on any drawings or specifications you provide to us. But if you don't have a drawing handy, that's not a problem, either. Simply send a sample part to us, and we can use that part to reverse engineer and manufacture non-standard fasteners for you. We'll design and fine tune them right down to the smallest detail so that you can resume work on your project.
Over the years, Lowrance Machine Shop has specialized in creating lots of non-standard special fastener options. You can call on us if you need bonnet bolts, all-thread studs, nuts, socket head screws, heavy hex bolts, or any other engineered specialty items. If you can think up a non-standard fastener, there's a good chance we can use our state-of-the-art equipment to manufacture it.
Give Lowrance Machine Shop a call at 281-449-6524 today to order non-standard special fasteners.